Thank You for Your Service
Washington Post journalist David Finkel focuses on an often-neglected narrative: what happens when soldiers return home.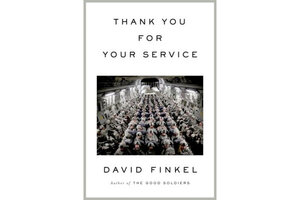 When David Finkel's "The Good Soldiers" came out in 2009, readers and critics alike realized it was a remarkable book. Finkel had followed an American infantry battalion in Iraq as it fought on the front lines of the surge. (Actually, one of his key points was that Iraq didn't have front lines: the enemy could come from "anywhere ... in any direction.") The only bad thing you could say about the book – and even this was a stretch – was that it all felt a little familiar. After all, nowadays even pulpy page-turners offer a skeptical view of war, its heroes, and its costs.
That's why Finkel's follow up, Thank You for Your Service, is so incredible – a stunning, moving, subdued masterpiece of a book. Where "The Good Soldiers" focused on a story we know (American troops caught in an impossible situation), "Thank You for Your Service" explores a story we too often neglect (what happens when those troops come home).
Finkel infuses his writing with the same thrill as one of those page-turners. He sticks to short paragraphs and sentences, avoiding the MFA prose that frequently mars writing about war. He moves quickly from scene to scene, with most of them set in the paramilitary communities that surround places like Kansas's Fort Riley. (An apartment complex there suffers two straight veteran suicides – "I call it Bloody November," the super says.) Finkel introduces characters with just enough detail, often drawing on primary sources like some overhead dialogue or a lurching text-message exchange. "Thank You for Your Service" communicates efficiently – it's less a bugle with tassels than a battered satellite phone.
It's a good thing Finkel is so compelling since he deals with subjects that are complex and grim. "Nearly two million Americans were sent into the wars of Iraq and Afghanistan," he writes. "Most of them came back." But those soldiers came back changed. Take Adam Schumann, who, like many of the soldiers here, also showed up in Finkel's first book. (There, Finkel called him "one of the best soldiers in the battalion.")
---