The Signature of All Things
Eat, pray, love – then write a really good novel.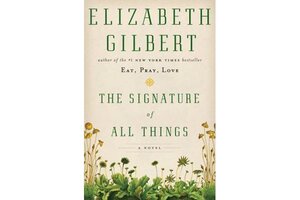 It's been a long time since I've enjoyed a novel this much.
Elizabeth Gilbert's epic The Signature of All Things is a triumph from start to finish. The tale is riveting (who'd have thought 19th-century botany could be?); the characters are endearing and bumbling; the scope sweeping (a human lifetime, an entire history of life on earth); and the science both accurate and amusing.
As a reader, I must admit that I approached this 500-page book with some trepidation, fearing that it might prove a bloated attempt to cash in on the overwhelming success of Gilbert's memoir "Eat, Pray, Love."
I should not have worried. "The Signature of All Things" is a witty historical fiction that may remind readers of Dickens, Austen, or – for a more contemporary point of reference – the novelist Carol Shields.
The novel tells the story of Alma Whittaker, born in Philadelphia in 1800 to a Dutch mother and wealthy botanist father, Henry, who's made his fortune selling the antimalarial "Jesuit's bark" (quinine) he cultivated while living in the Andes. A plucky go-getter and quick learner, Henry expects British scientists to welcome him into their exclusive fold upon realizing the breadth and value of his botanical expertise.
Instead, he's dismissed as a mere upstart – which makes Henry vow to become the richest, most powerful botanist on earth. He succeeds. He sets up a thousand-acre estate in Philadelphia, marries the daughter of a revered Dutch botanist, cultivates rare medicinal plants, and makes a killing.
Yet the story really belongs to Alma, who inherits her parents' insatiable curiosity about the natural world, spending her childhood days with her eye on a microscope, her hands in loam, her thoughts on books. Alma's crush on a fellow botanist goes nowhere, while her beautiful adopted sister never lacks for suitors. Alma continues to study and publish, and at last narrows her focus to bryology – the study of mosses.
---