The Goldfinch
Donna Tartt's long-awaited new novel follows Theo Decker, a young orphan who takes possession of a legendary painting.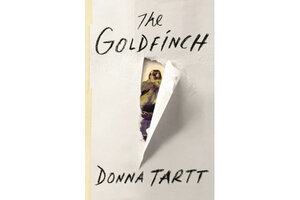 There's a pretty easy test to see if Donna Tartt's third novel, The Goldfinch, is for you. When confronted with an almost 800-page book, is your initial reaction: "If I dropped this on my foot, I could seriously do some damage," or "Best. Spider-killing Weapon. Ever."?
If so, there is plenty of terrific fiction this fall that clocks in under 500 pages, such as James McBride's "The Good Lord Bird," which also features an orphan and an avian metaphor.
But for those who like big, twisty books, "The Goldfinch" is a hefty delight.
Tartt proved she knew how to go big with her debut novel, 1992's much-loved cult novel,"The Secret History," in which cloistered Classics students at a New England college turn murderous. While she averages about one book a decade, those books are steeped in a rare kind of storytelling that a certain kind of reader (namely this one) can happily get lost in. Tartt's books submerge you for the duration until you emerge, blinking, in the sunlight at the end, wondering how the laundry pile got so big and just how many meals you might have missed.
"The Goldfinch," in which Tartt explores art and loss, takes its title from the favorite painting of 13-year-old Theo Decker's mom. As the book opens Theo, having been suspended from school, is being taken by his mom to see Carel Fabritius's miniature masterpiece (an actual painting belonging to a museum in The Hague).
"It was a small picture, the smallest in the exhibition and the simplest: a yellow finch, against a plain, pale, ground, chained to a perch by its twig of an ankle," Theo says.
Fabritius, who was Rembrandt's student and Vermeer's teacher, died the same year he painted "The Goldfinch," killed when a gunpowder factory exploded in Delft in 1654. The explosion also destroyed most of his work: less than a dozen paintings remain, including the little bird on his perch.
---