Norman Mailer: A Double Life
J. Michael Lennon tackles the wildly eventful life and career of Norman Mailer, in the first biography since Mailer's 2007 death.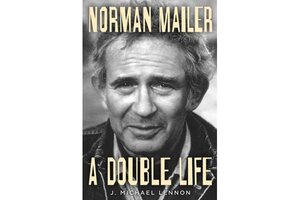 In the annals of American literature, has there ever been a major writer more easily distracted than Norman Mailer? The author of such classic books as "The Naked and the Dead" and "The Executioner's Song" had a penchant for tangents that took him, over the course of his 84 years, far afield of his chosen profession. "Mailer loved to drop everything, mobilize his energies, and launch in a new direction," writes J. Michael Lennon in Norman Mailer: A Double Life, the first biography of the author to appear since his death in 2007.
For example, take a passage which considers Mailer, circa 1965. The decade had already been chockablock with incident, with its share of highlights (such as Mailer's writing his classic novel "An American Dream" for Harper's magazine) and lowlights (most scandalously an early-morning fight with his second wife, Adele, in which she was stabbed). But when Lennon sets the stage for what the next 10 or so years have in store for him – "he would write sixteen books, create three experimental films, produce an off-Broadway play, and in 1969, before appearing on the cover of Life, would run for (and lose) the Democratic nomination for the mayor of New York City" – we are almost as exhausted as we suppose Mailer might have been.
The raw material that made up Mailer's busy, teeming life might have given lesser biographers fits (or even suggested that a multi-volume approach was in order), but Lennon is able to keep pace – and so are we. Most fascinating are the accounts of the creation of various Mailer masterworks: We are with him as he starts to make sense of the plethora of interviews which informed "The Executioner's Song" and as he treks to Russia to learn more about Lee Harvey Oswald for "Oswald's Tale." Lennon has a sure feel for evoking Mailer's one-of-a-kind literary style, as when he describes the panoply of incident packed into his famous boxing essay "Ten Thousand Words a Minute," which, like so many Mailer creations, was "a revamping of the genre," going far beyond simply detailing the fight: "Mailer opens his focus to include portraits of the fight crowd, the celebrities, the dignitaries, the hangers-on, and the reporters who covered the fight."
---