Knocking on Heaven's Door
Journalist Katy Butler questions current end-of-life care practices in a book that is both compelling and affecting.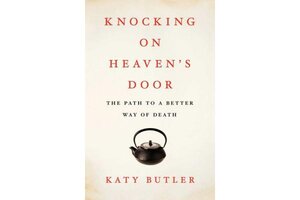 Reviewed by Michelle Dean for The Barnes & Noble Review
Death has the distinction of being the subject we'd all like most to avoid thinking about, but can't. Until not long ago, the reason for that was straightforward: The mortality rate continues to run at a clear-cut 100 percent, a fact that grows at once easier and more difficult to meditate on the older one gets.
For several decades now, however, members of an increasingly long-lived society have had more than our own final destination to preoccupy us. We are also faced with those of our parents. Novelists and other chroniclers of human consciousness have long explored the emotional trauma resulting from the death of a parent. But in the era of medically extended twilight years, the economics and psychology of the resulting scenarios can combine to produce something new – an unholy mess, a nightmarish and ghoulish business where the pain of loss can be swamped by the cost of its postponement. Because we still deal with our discomfort around death with silence, there is a lot of room in the subject for a real researcher to uncover. And in this field, they have.
The signature work around the problem is still probably Jessica Mitford's "The American Way of Death" – though the silence she broke was around what happened after death, rather than before. When it was first published in 1962, the book was a runaway bestseller, the kind of revelatory report that book publishers rarely manage to produce in our sped-up world. Mitford was married to a man who, as a labor lawyer, was interested in obtaining low-cost funerals for union members. As such, he got a bee in his bonnet about the way he saw funeral directors cheat, overcharge, and otherwise financially exploit people who were not really in a place where they could afford to bargain. Mitford, who had been working as an investigative journalist focused on civil rights abuses, took up the subject for a small left-wing magazine, got a book contract, and then wrote a sort of epic tour of the industry's pieties about itself and the contrasting economic reality. Undertakers, for example, routinely lied to their clients about the state of the law, saying for example that embalming was required when it was not. The government had to step in and outlaw this, so routine was it as a practice.
---