Local Souls
Allan Gurganus spins three separate stories in this chronicle of life in a small North Carolina town.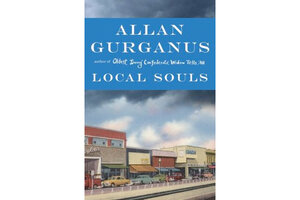 Reviewed by D.G. Myers for Barnes & Noble Review
Ever since Sherwood Anderson published "Winesburg, Ohio" in 1919, American writers who set out to describe small-town life have struggled with his influence like an inherited disease. Allan Gurganus is no different. The people of Falls, North Carolina – the small town that serves as the setting of the three novellas in Local Souls, his fifth book of fiction – are grotesques who smashed their moral compass long ago (if they ever had one) and now find themselves wandering aimlessly along the edges of an insular and isolated community. They are "souls born to stay local," solitary and self-pitying over their marginal status, "stranded in some garrison town." With an upgrade of their electrical gadgets and a WiFi connection, they could have stepped from Anderson's pages. Even the map printed as a frontispiece, with the sites of key events carefully flagged, looks like the map in "Winesburg, Ohio."
Gurganus is best known for his 1989 debut. "Oldest Living Confederate Widow Tells All," a 700-page "Little Big Man" of the Civil War and its aftermath, was published when he was 42. It enjoyed all the ripe, sweet fruits of the blockbuster: months-long stay on the New York Times bestseller list, Book-of-the-Month Club main selection, Hollywood adaptation. Gurganus has never come close to duplicating its success, has never seemed to want to. "Plays Well with Others" may be the better novel – a story that did for pre-AIDS New York what Aharon Appelfeld's "Badenheim 1939" did for pre-Holocaust Europe – but it attracted less than one-eighth the attention of his first novel. He is probably at his best in Henry James's "ideal, the beautiful and blest nouvelle," the genre of fiction that marries the tight effects of a short story to the larger vision of a novel. "Local Souls" is Gurganus's second collection, following "The Practical Heart" just over a decade later.
---