The War That Ended Peace
Why did World War I begin? Historian Margaret MacMillan offers a masterly exploration of the factors that led to the devastating conflict.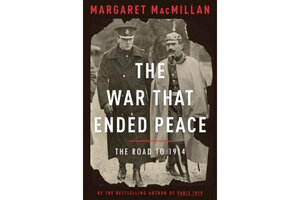 On July 28, 1914, Archduke Franz Ferdinand, the heir to the throne of Austria-Hungary, and his wife, Sophie, were assassinated in Sarajevo. Just over a month later, World War I broke out. It was arguably the most formative event of the 20th century. Millions died, four empires collapsed, and the most dramatic events in the years that followed – the Russian Revolution, World War II, and the Cold War – can be traced directly to the Great War.
Historians have long argued about why the war started and whether it could have been avoided. British intellectual Eric Hobsbawm believes that this single topic has commanded more attention among historians than any other subject. There is no way to know whether he's right, but as the 100th anniversary of the conflict nears, we can expect another round of books that seek to answer history's most basic question: Why?
Margaret MacMillan's new book The War That Ended Peace: The Road to 1914 will be a welcome addition to these debates. An earlier book, "Paris 1919: Six Months that Changed the World," which examined the drafting of the Treaty of Versailles that ended the war, established her reputation as one of the most gifted historians of our time. This book investigates the reasons that the war started and is a welcome and indispensable addition to this vast literature.
---