The Two Hotel Francforts
Two unhappy married expat couples meet in World War II-era Portugal – a meeting that changes everything for all of them.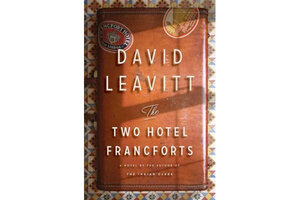 By Heller McAlpin for The Barnes & Noble Review
It's hard to imagine, now that marriage equality has become almost commonplace, but David Leavitt's short story "Territory," published in The New Yorker in 1982, was the first openly gay fiction in the magazine. A sensitive exploration of tensions that arise when 23-year-old Neil brings home his male lover for the first time, the story is tame by today's standards – or even in comparison to Leavitt's 1997 novella, "The Term Paper Artist," which was pulled from publication in Esquire over what the magazine's editor called "a taste question." But in its crossover appeal to gay and straight readers alike, it helped break down the ghettoization of gay fiction. Nowadays, it sometimes seems as if it's the rare novel that doesn't have at least one gay character.
The Two Hotel Francforts, Leavitt's eighth novel, has no openly gay characters, though it features a brief but torrid homosexual affair between what not so long ago could have been simply described as two unhappily married men but now needs to be clarified as two men in unhappy marriages with women. Set in Lisbon, Portugal, in June 1940, where hordes who have fled occupied France gather to await passage to safety, it offers a different sort of crossover appeal – to readers of both historical and domestic fiction.
Spanning just a few weeks and 250 pages, "The Two Hotel Francforts" is a stylish model of narrative compression and economy. Despite the escalating Nazi threat that forms its backdrop, its focus is alienation of affection rather than annihilation.
---