The Ministry of Guidance Invites You to Not Stay
Hooman Majd completes a trilogy of books that illuminate the politics, society, and culture of modern Iran through his own decidedly hip eyes.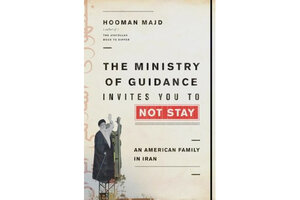 Hooman Majd is a man in search of a country – his own country, that is. For Majd, home has always been an elusive concept, having been born in Tehran and, as the son of an Iranian diplomat, growing up in half a dozen countries. Ten years ago, after a relaxation of Iranian laws that prohibited dual citizenship, Majd was able to renew his Iranian passport and begin traveling back to the country of his birth.
After writing his first book, the award-winning "The Ayatollah Begs to Differ" (2008), Majd followed up with "The Ayatollahs' Democracy" (2010) which examined Iranian politics and society in the aftermath of the 2009 bloody crackdown on the Green Movement.
Now Majd has written his most personal book, The Ministry of Guidance Invites You to Not Stay: An American Family in Iran, an account of life in Iran during annus horribilis (2011), when political tensions between Tehran and the West reached a low point as crippling economic sanctions began to bite ordinary Iranians and mutual distrust flourished.
Enter Majd and his Wisconsin-born wife, a yoga instructor with a penchant for organic food, and their not-quite-one-year old baby boy Khash. Despite parental efforts to dissuade him, Majd relocates his family from Brooklyn to Tehran. Majd's wife, who has obtained an Iranian passport, is keen to join her husband who wants his infant son to "breathe the air, drink the water, and eat the food" of Iran, just as Majd did at his age.
---