The Discovery of Middle Earth
Graham Robb delves into the momentous contributions of the Celts, a people he dubs geniuses who 'married mathematics and geography.'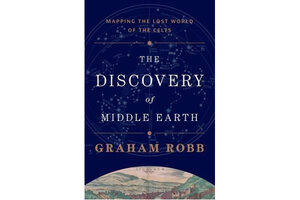 Those who assume that The Discovery of Middle Earth is yet another work exploring the writing of J.R.R. Tolkien are (for better or worse) wrong... but understandably so. As author Graham Robb explains, the name of Tolkien's mythical world is taken from the Norse/Germanic "Midgard," an analogous name to the Celtic/Gaulish "Mediolanum," a word still attached in one way or another to dozens of sites throughout Western Europe.

In "The Discovery of Middle Earth," Robb sets out to establish the momentous contributions made to the arts of cartography and communication by the once-great Celtic peoples, who at various points in history spread all the way from modern-day Turkey to Ireland. In the process, he consults old documents, interviews experts, examines artifacts, and bicycles more than 26,000 kilometers across France, taking his readers along with him.

Places named Mediolanum, and their apparent significance as coordinates on a sophisticated Celtic system for mapping the world, are at the center of "The Discovery of Middle Earth." Also key, and much explored by the author, is the Via Heraklea – an ancient path that starts at the southwestern tip of the Iberian peninsula and traces a direct route to the north and east into the Alps, journeying directly into the rising sun of the Summer Solstice.
---