The Minor Adjustment Beauty Salon
Precious Ramotswe, as endearing as ever, works to untangle fresh mysteries in Alexander McCall Smith's latest entry in the 'No. 1 Ladies' Detective Agency' series.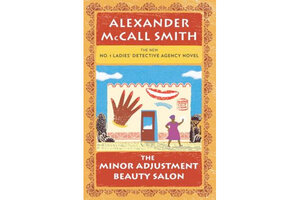 Some detectives were made to work alone: Sam Spade, Philip Marlowe and Clovis Anderson, author of "The Principles of Private Detection."
Precious Ramotswe, however, finds herself at a loss after she is bereft of her Watson in "The Minor Adjustment Beauty Salon," the 14th entry in Alexander McCall Smith's beloved No. 1 Ladies' Detective Agency series.
After refusing for months to discuss her rapidly expanding waistline, Grace Makutsi Radiphuti finally admits she's pregnant – just days before giving birth to young Itumelang Clovis Radiphuti.
While Precious thought she would enjoy the respite, she desperately misses her bossy associate detective – even Grace's habit of talking to her shoes. And without a partner to bounce ideas off, her cases are suffering as well. Lawyer Sheba Kutso has hired the agency to investigate a young man calling himself Liso Molapo, suspecting he isn't the real nephew to whom her late client left much of his estate. And someone is spreading malicious rumors about Mma Soleti, the owner of the titular beauty salon, destroying her business.
Grace, meanwhile, is adjusting to new motherhood and trying to cope with her husband's poisonous aunt, who has moved in to "help" with the baby. And in the sweetest plotline, Mr. J.L.B. Matekoni, who wants to help out more at home, signs up for a course, "How to Be a Modern Husband (Level 1)." (Many potatoes valiantly give their lives in his hilarious show of devotion.)
---