End of Days
James L. Swanson provides a basic, clear-eyed, and complete narrative of Nov. 22, 1963, plus its prologue and aftermath.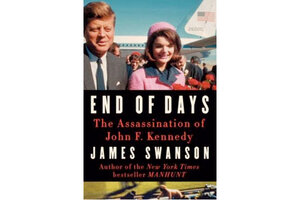 The crowd was thrilled to see John F. Kennedy on that Thursday in 1963, including the woman who managed to get past security to pat his cheek and the girl who dashed from the crowd toward his motorcade and shouted, "Hello there!"
"Cue-ber, Cue-ber!" yelled two boys on the sidewalk, mocking the president's pronunciation of "Cuba" as he rode by. He glanced their way and a third boy snapped a photo: Kennedy standing in his car with a smile, a hand in mid-wave in the foreground and a diner in the background.
A president riding by in the open air, kids playing hooky to see him, critics and cranks outnumbered by fans: A purely ordinary visit that nobody remembers unless they were there. It was San Diego in June, after all. Dallas was more than five months away.
For better or worse, the ordinary days of the Kennedy administration aren't the ones that most people remember. We focus on crises and speeches, a wife and two children, and the great tragic mystery of Nov. 22.
But while books about the Kennedy Assassination could fill shelf after shelf, there aren't many modern ones that simply focus on the events of the day itself and avoid the dark world of conspiracy theories. That's where End of Days: The Assassination of John F. Kennedy by bestselling author James L. Swanson fits in as it arrives in time for the 50th anniversary of that dreadful day.
---