This Is the Story of a Happy Marriage
Novelist Ann Patchett's excellent essay collection ranges from dogs to writing to white-knuckled air travel.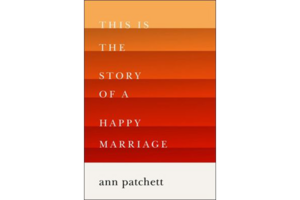 Ann Patchett has one thing in common with the Grinch: She can't stand Christmas.
"In my family, there were happy Thanksgivings and tolerable Easters, but Christmas was a holiday we failed at with real vigor," she writes on the first page of her new essay collection,This Is the Story of a Happy Marriage. That Patchett is not convinced Dec. 25 is the most wonderful time of the year is the first of many tidbits she shares with readers, writing with humor and candor about everything from her time as a waitress at a T.G.I. Friday's to the summer she and a friend rolled in – and ate – poison ivy to escape from sleepaway camp. (Why they thought a hospital would be a better alternative is unclear, she says now.)
Patchett, the author of "Bel Canto" and "State of Wonder," is probably best known as the most famous independent bookstore owner in America. She writes about opening Parnassus, a former tanning place located near a doughnut shop and a nail salon, in Nashville after the city lost its bookstores. ("I wanted to go into retail about as much as I wanted to go into the army," she writes.)
By the end of this wide-ranging collection of excellent essays, most of which have been previously published elsewhere, readers will know more about Patchett than they do their neighbors.
Among other topics, she writes about finding (and later losing) her beloved dog; the creation of her first novel, "The Patron Saint of Liars"; her first marriage and her flight from it; her friendship with the late writer Lucy Grealy, the subject of her memoir "Truth and Beauty"; and the years she spent looking after her grandmother.
---