Love & War
James Carville and Mary Matalin defend and explain their famously bipartisan marriage.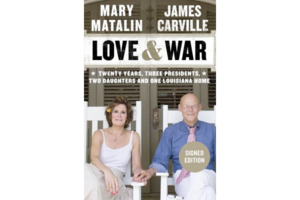 Mary Matalin and James Carville begin their second memoir, Love & War, with a page of Frequently Asked Questions.
The top two are "Is your marriage a sham?" and "Is your marriage a political stunt?"
The answer, in brief, is no. Despite their dramatic political differences – she is a dyed-in-the-wool Republican, he is a cradle-to-grave Democrat – Matalin and Carville have been making it work for over 20 years. They married shortly after the 1992 presidential election, for which she was a campaign manager for George H.W. Bush and he was a strategist for Bill Clinton.
Not long after, Matalin and Carville published their first memoir. It described what it was like to work on competing presidential campaigns while dating and falling in love. Now, memoir number two gives readers the opportunity to learn how the mismatched couple has fared in their last two decades together.
While the premise may be intriguing, those hoping for passionate, partisan sparring will be disappointed. Instead, "Love and War" is a her turn/his turn diary mostly focusing on the family's move to New Orleans after Hurricane Katrina.
Carville ("the Ragin' Cajun") grew up in small-town Louisiana, one of eight children in a working class Catholic family. He maintained his devotion to the state – and its sports teams – during the couple's many years as political advisors and media pundits in Washington, DC.
---