Flyover Lives: A Memoir
Diane Johnson – best known for giving us scenes of expat life in Paris – has written a curious but engaging memoir about her Midwestern ancestors.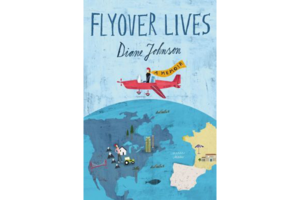 Reviewed by Katherine A. Powers by The Barnes & Noble Review
Over the years, as I read Diane Johnson's witty, ironical comedies of manners about Californians in Paris, it never occurred to me that she and I might have anything in common in our origins and influences. I now discover from her curious little memoir, Flyover Lives, that like me, Johnson was born and grew up in a Midwestern town on the Mississippi River and, what's more, got her first taste of what I call life from a Carnegie Library.
By life I mean that painted by Alexandre Dumas, Raphael Sabatini, Nordhoff and Hall, and Captain Maryatt. Here, I see, was another ambitious girl who had no time for Louisa May Alcott, having set her sights on a career of swashbuckling adventure on the high seas. After that, however, our early paths have diverged.
"Flyover Lives" starts and finishes in fine style with the beginning and end of a wicked vignette set in Provence, where Johnson and her husband found themselves members of an exceedingly rivalrous house party whose members knew their own ancestors like their own bank accounts. Johnson says the episode alerted her to how little she knew of her family, and it also reminds us how far this sophisticated writer has come from the "sweetness, stolidity, and commonsense" of her origins.
Diane Johnson was born in Moline, Illinois, home of John Deere's steel plow factory and its later incarnations and expansions. (It is also the gravesite of Frank Dickens, one of the great novelist's unlucky sons.) Her parents were Midwesterners with French and English forebears who arrived in America in the 18th century and whose descendants eventually moved West. "We were," she writes, "default Americans, plump, mild and Protestant."
---