Brown Dog: Novellas
The adventures of Brown Dog, Jim Harrison's 'wonderful backwoods nitwit,' are collected in one rollicking set of linked tales.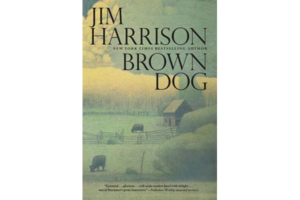 Reviewed by Heller McAlpin for The Barnes & Noble Review
Hallelujah for this omnibus collecting all five of Jim Harrison's wonderful, previously published "Brown Dog" novellas, plus a bonus, unusually sentimental new one. Brown Dog isn't a canine but a woodsman, fisherman, charming lecher, and free spirit of mixed Chippewa-Finnish blood. He is one of Harrison's finest creations, a standout in a prolific career that has captured American wildlife and wild lives, the disenfranchised poor and ambitious academics, and the sublimity of our vast forests and hidden streams in more than thirty books of poetry, novels, and novellas, including "Legends of the Fall," "True North," and "The Great Leader."
Harrison first introduced this goofy, winning loser and "wonderful backwoods nitwit" in his 1990 collection, "The Woman Lit by Fireflies," which along with the title novella from the 2005 collection, "The Summer He Didn't Die," remain the strongest Brown Dog tales. If you're going to read just two, these get my vote, but my guess is that once you submit to the charms of the original "Brown Dog," you're going to sit up and beg for more. Just be prepared for some serious delight, along with earthy whiffs of wild morels and morals, booze and botany, and lots of unapologetically horndog sex.
Brown Dog lives and lusts off the grid in Michigan's Upper Peninsula, where "getting drunk twice in one day" was called a doubleheader and summer was "known locally as three months of bad sledding." He supports himself – barely – with odd jobs, logging wood for pulp, repairing deer cabins, and shoveling snow.
---