Orfeo
A retired music professor on the run from the government confronts his past in Richard Powers's profound yet accessible 11th novel.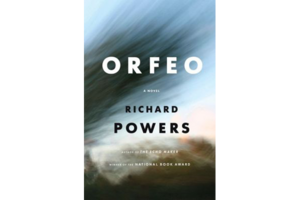 Written for Barnes & Noble Review by Tom LeClair
Since reviewing Richard Powers's second novel, "Prisoner's Dilemma," in 1988, I've had to keep track of his age so that, when asked who to read, I can say, "Powers. He's the most important living American novelist under" whatever age he happens to be at the time. Now he's 56, and I believe only (in alphabetical order) DeLillo, Morrison, Pynchon, and Roth – all two decades older – stand above him. Of novelists in Powers's generation with whom he is often compared – Franzen, Vollmann, Wallace – none equals Powers's combination of consistent production, intellectual range, formal ingenuity, and emotional effect.
Powers has now published 11 novels and won the National Book Award for "The Echo Maker" in 2007, and yet he remains unknown and intimidating territory to many readers. Orfeo seems designed to reach a wider audience and is an excellent introduction to his concerns in earlier books. Powers novels usually achieve their depth through parallax, splicing together two eras or several stories or different kinds of information: World War I in Holland and contemporary Boston in "Three Farmers on Their Way to a Dance"; programmers developing a virtual reality cave in Seattle and a hostage struggling to survive in Beirut in "Plowing the Dark"; two love stories, Bach, and genetics in two separate decades in "The Gold Bug Variations."
---