On Such a Full Sea
Korean-American author Chang-Rae Lee tells an exquisitely written dystopian tale of a girl who sets off through a very changed America to find her missing boyfriend.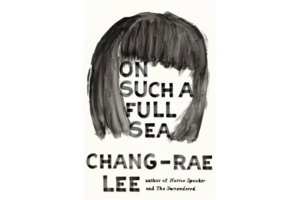 When literary authors try their hand at genre fiction, somehow they never end up writing romance novels. Typically, they either are in a murderous frame of mind, à la John Banville and Kate Atkinson, or the future beckons them with a bleak and cautionary finger. (Usually, Big Brother could make himself quite at home, although at least there usually aren't rat cages that fit over people's faces.)
Pulitzer Prize finalist Chang-rae Lee joins the ranks of dystopic prophets such as Cormac McCarthy ("The Road"), Margaret Atwood (her "Oryx and Crake" trilogy), and Kazuo Ishiguro ("Never Let Me Go") with his exquisitely written new novel, On Such a Full Sea. While no one would accuse the book of wide-eyed optimism, it's still less nihilistic than Lee's 2011 novel, "The Surrendered."
With his new novel, Lee takes familiar themes of individualism, income inequality, and the immigrant experience, and then places them in a surreal future that takes plenty of cues from last week's woes.
Environmental degradation has led what's left of society to divide into three tightly defined strata. At the top are the Charters, who hoard the remaining resources and live genteel, anxious lives in gated cities. Their food and goods are created in labor colonies such as B-Mor, which we know as Baltimore, populated by settlers from New China. There, they grow perfect fish and beautiful vegetables for the consumption of the Charters, who scrutinize every morsel that goes into their mouths with an intensity that would shame a Whole Foods shopper. Then there are the counties, a vicious, hard-scrabble world of rickety vehicles and suspect canned goods. The counties operate on violence and barter – people are the top commodity and the unofficial motto is "You better have it while you have it."
---