My Life in Middlemarch
Rebecca Mead's book is not only a love letter to George Eliot but also a rumination on how literature can shape our lives.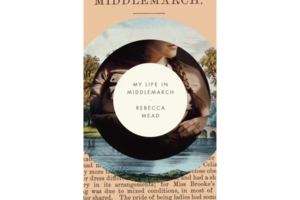 "I chose Middlemarch – or Middlemarch chose me – and I cannot imagine life without it," writes New Yorker staff writer Rebecca Mead in her new literary memoir My Life in Middlemarch.
Based on her 2011 New Yorker article "Middlemarch and Me," Mead's book explores these questions: "Where is a woman to put her energies? How is she to express her longings? What can she do to exercise her potential and affect the lives of others? What, in the end, is a young woman to do with herself?" These conflicts plague not only the fictional Dorothea Brooke but also the novel's author George Eliot, memoirist Mead, and ardent fans of Eliot's classic book.
Mead writes that "Middlemarch" captures the poetry of girlhood, of love and marriage, maternity, and duty. But in contrast with similar relationship-themed novels of its time, Middlemarch refused to present weddings as a fairy tale ending. Mead writes that every marriage in Middlemarch "suggests, instead, the start of a story, not its conclusion…. Every marriage … amounts to an epic journey, and adventure of discovery."
When young Dorothea Brooke weds the scholar Casaubon, she hopes that their union is the beginning of her new life amidst cultured intellectuals. Instead, Casaubon spurns her ambitions, and Dorothea senses that not only is her husband's grand academic project doomed – so is their romance. Eliot had set out not to write, as she had lampooned in one scathing essay, a silly novel by a lady novelist. Rather, she wanted to convey emotional complexity; she not only makes the reader identify with young, yearning Dorothea but also frustrated, unfulfilled Casaubon. It is thanks to this emotional and moral complexity that Virginia Woolf called "Middlemarch" "one of the few English novels written for grown-up people."
But it's Eliot's own experiences that enabled her to bring such a rich world to life. Mead writes of Eliot's "self-willed transformation from provincial girlhood to metropolitan preeminence." Eliot, born Mary Ann Evans in 1819 in rural Warwickshire, was a precocious teenager who had to take care of her father's household after the death of her mother. The author was "waiting for her life to start – not complacently, or resignedly, but anxiously and urgently."
---