The Undercover Economist Strikes Back
This cordial look at our recession's slow recovery has all the answers – and the questions to boot.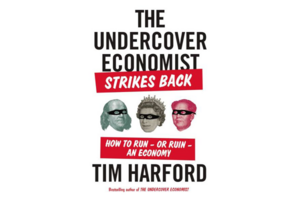 By Charles Reinhardt for The Barnes & Noble Review
Economics is pretty boring at the best of times. When the system is humming along and most people are employed, subjects like interest rates, inflation, and financial stability seem dry to most. But in the midst of a grindingly slow recovery from the worst downturn since the Great Depression, the proportion of people that want a better understanding of how the whole thing works has grown; economic festivals have sprouted up in Europe, and global debt commentary has even bled into stand-up routines, if only at a rhetorical level.
Tim Harford's new explainer, The Undercover Economist Strikes Back, goes a good way toward meeting this need, serving as a lighthearted compendium of the main fault lines of disagreement in the famously contentious field of macroeconomics, while also making a good-faith effort to show the relative merits of different points of view. It's written in a breezy manner, employing the same conversational question-and-answer style that structured its predecessor "The Undercover Economist": "'Moderate inflation' sounds a bit like 'moderate pregnancy' to me," Harford quips.
The book is littered with pop culture and literary references located at the beginning of each chapter, including two particularly chuckle-worthy excerpts from Douglas Adams's "Hitchhiker's Guide to the Galaxy" and "The Restaurant at the End of the Universe," recounting the sad fates of the Alterian dollar and Flainian Pobble Beads and advising against using tree leaves as legal tender. This approach is good, because it helps dilute the two dominant emotions people associate with economics: tedium and dread.
---