All Joy and No Fun
Journalist Jennifer Senior asks: Is American culture driving parents slightly crazy?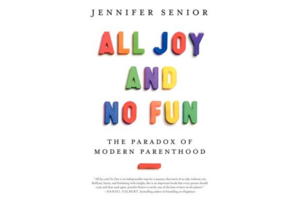 Philip Larkin, in an oft-quoted poem, declares, "They [mess] you up, your mum and dad./ They may not mean to, but they do."
The effect of parents on children has long been a subject for sociologists and novelists (see Jonathan Franzen's "The Corrections" for Larkin's lines as 500-page fiction) but the less frequently raised question is, what effect do children have on parents? This query fuels Jennifer Senior's All Joy and No Fun: The Paradox of Modern Parenthood, a study of parenting for middle-class Americans today.
The end of World War II heralded a transformation of children's role in the family from asset to investment. The recent technological revolution and spillage of work-life into the home shifted the picture of family life even further. Senior – whose book deal stemmed from a New York Magazine cover story with the provocative caption, "I Love My Children. I Hate My Life" – notes that the trend of bearing children after 30 contributed still more to parents' tendency to protect and "cultivate" them as well as to parents' difficulty relinquishing their own freedom.
---