The Triple Package
Amy Chua – also known as 'Tiger Mom' – works with her husband to examine the surpassing success of eight US cultural groups.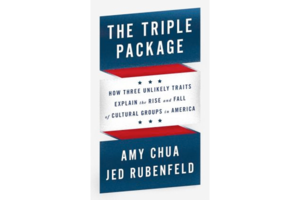 Tiger Mom roars again.
In The Triple Package, "Battle Hymn of the Tiger Mother" author Amy Chua and her husband and coauthor Jed Rubenfeld attempt to explore why some cultural cohorts succeed in America while others trail behind.
Specifically, they focus on eight groups: the Chinese, Jewish, Indian, Iranian, Lebanese, Nigerian, Cuban, and Mormon communities in the United States. The authors' theory is this: These groups succeed thanks to a sense of superiority, feelings of insecurity, and strong impulse control. This so-called Triple Threat – sorry, Triple Package – offers other groups a template for becoming more academically competitive and more financially successful.
Superiority, Chua and Rubenfeld say, entails a "chip on the shoulder": One sees this among Jews, who refer to themselves as the "chosen people," or in the Mormon community where individuals struggle to prove that they're not "a polygamous, almost crackpot sect." The authors note that, among Latinos, Cuban exiles "separated themselves from America's other, relatively poor Hispanic communities" because of Cubans' elevated view of themselves. And the authors say that Chinese and Iranians are well known to feel superior to others in their regions.
---