Code Name: Johnny Walker
Pseudonymous writer 'Johnny Walker,' an Iraqi, tells the story of his time as an interpreter for the US Navy SEALs.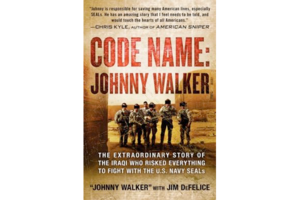 "Johnny Walker," as the US Navy SEALs dubbed him, was more than your average wartime interpreter (or "terp," as soldiers often call them). He was as quick with his wits as he was with a pistol or AK-47. He could calm the living room while SEALs were searching for the man of the house. He knew how to push the Iraqis' buttons. He would tell the suspect sporting the fake ID that he could go free but that the Americans would be taking his family away – a bluff that often worked.
Or he would make the suspect think he had passed the interrogation with flying colors before casually asking him, using the suspect's real name, to reclaim his false papers. If the "perp" took one fateful step forward, game over.
For those who think they've heard the last word, or too many words, on the Iraq war, Code Name: Johnny Walker is an eye-opener. With Jim DeFelice, Walker has written a mesmerizing memoir about his life, including the six years in which he helped American forces during the worst of times in his country. This "terps-and-perps" drama is riveting, as are Walker's insights on the war, America, and Iraq. The author remains anonymous for the safety of his family here and in Iraq.
Walker grew up in Mosul, quick with his fists and a slingshot and sensitive to the slights and injustices that abound in a poor, corrupt land ruled by a dictator. In school, he was smitten by Ernest Hemingway's "The Old Man and the Sea." He played basketball and ran track and liked American country music.
He narrowly missed the Iran-Iraq War that ended in 1988 and was an Army gunner during Desert Storm in 1991. Later, his brother would be jailed by the Fedayeen Saddam, only to be released and then killed in the sectarian violence that accompanied the second war with America.
A Sunni, Walker married a Shiite, and they were barely scraping by when American forces invaded again in 2003. His life, like those of his fellow countrymen, went from precarious to desperate. When American forces reached Mosul, they were welcomed – but not for long.
---