Booker Prize winner: Murder mystery wins prestigious award
Booker Prize winner Eleanor Catton wrote an 832-page murder mystery set in Catton's homeland, New Zealand. This is the last year that the Man Booker Prize will be open only to writers from the former British Empire.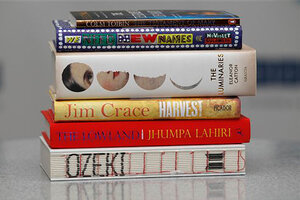 Sang Tan/AP
Youth and heft triumphed at the Booker Prize on Tuesday, as 28-year-old New Zealand author Eleanor Catton won the fiction award for "The Luminaries," an ambitious 832-page murder mystery set during a 19th-century gold rush.
The choice should give heart to young authors of oversized tales. Catton is the youngest writer and only the second New Zealander to win the prestigious award — and her epic novel is easily the longest Bookerchampion.
Travel writer Robert Macfarlane, who chaired the judging panel, called "The Luminaries" ''dazzling" and "luminous."
"It is vast without being sprawling," he said.
"You begin it, feel you are lost, think you are in the clutches of a big, baggy monster ... but soon realize you are in something as tightly structured as an orrery," a device for measuring the planets.
"It is beautifully intricate without being fussy," Macfarlane said. "It is experimental ... but does not by any means neglect the traditional virtues of storytelling."
Catton had been bookmakers' joint favorite among the six prize finalists, alongside British novelist Jim Crace, for his rural parable "The Harvest."
She also beat Ireland's Colm Toibin, Indian-American writer Jhumpa Lahiri, Zimbabwe's NoViolet Bulawayo and Canada's Ruth Ozeki.
Catton received her trophy, which comes with a 50,000 pound ($80,000) check, from Prince Charles' wife Camilla, the Duchess of Cornwall, during a dinner ceremony at London's medieval Guildhall.
"The Luminaries" centers on a man named Walter Moody who comes to a New Zealand prospecting town in 1866 and finds himself immersed in a web of saloons, seances and skullduggery.
The book's elaborate narrative is structured according to astrological charts: It consists of 12 sections, each half the length of the last, from a 360-page opener to a final chapter of a single page.
---