Miep Gies, protector of Anne Frank
(Read article summary)
Miep Gies, one of the heroes who sheltered the Frank family, always insisted that she did nothing out of the ordinary.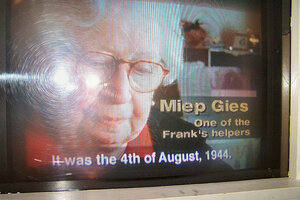 Miep Gies, known to the world as a protector of Anne Frank and custodian of the girl's diary, died yesterday at the age of 100. She was the last living person to be mentioned in "The Diary of Anne Frank."
Gies was a modest woman who sought no fame and always argued that in helping to hide the Frank family she did nothing special. She made a point of reminding the world that at least 20,000 Dutch citizens also sheltered Jews and other persecuted persons during the Nazi era and that untold thousands of others risked their lives serving as part of the Dutch resistance.
Gies was a displaced person herself. Born Hermine Santrouschitz to a Roman Catholic German family in Vienna, she was sent to Holland at the age of 12 to escape food shortages. Her host family eventually adopted her, giving her the nickname of "Miep."
As an adult, Gies worked as a secretary to Otto Frank, father of Anne. After the Nazi invasion of 1940, Otto Frank decided his family was no longer safe. In July 1942 the Franks and four others hid themselves in rooms above the offices of Otto Frank's firm. For two years Gies and her husband and three colleagues risked their lives to smuggle food and provisions to the Franks.
---