Writers rally for Haiti
(Read article summary)
Edwidge Danticat and Simon Winchester appeal for help to Haiti.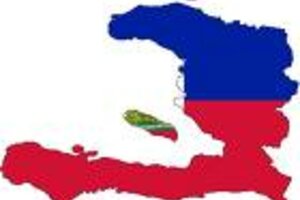 For many US readers, there is no face more connected with the island nation of Haiti than that of Haitian-American writer Edwidge Danticat. In the days and hours since Haiti's devastating earthquake, Ms. Danticat has been speaking out from Miami about the great need for world and individual help to her birth-nation.
Danticat, author of novels such as "Breath, Eyes, Memory" and "The Dewbreaker," in addition to her family memoir "Brother, I Am Dying," was born in Haiti but grew up largely in the US. However, she still has family ties in Haiti and remains a powerful advocate for that country. Since Tuesday's earthquake she has given interviews from Miami to both the The Wall Street Journal and National Public Radio. She says she has been able to reach her mother-in-law by phone but adds that most of what seems to be coming out of Haiti right now are "layers of bad news." She refers to the earthquake as "an apocalypse for this small and often tried country."
---