"Android Karenina": no end in sight to mash-up novels
(Read article summary)
Are mash-ups junk lit or do they drive young readers to the classics?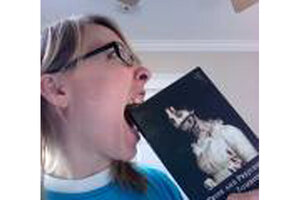 If you thought 2009 sensations "Pride and Prejudice and Zombies" and "Sense and Sensibility and Seamonsters" would be the end of the mash-up novel trend, you were mistaken. It seems 2010 will bring us several new attempts to turn classics into monster hits of a whole different genre.
The arrival of "Little Women and Werewolves" was announced last fall (now scheduled for release in June) and the latest project to surface is "Android Karenina." This tale of upper-class adultery and rogue robots, jointly told by Leo Tolstoy and Ben H. Winters, is set in "in a steampunk-inspired world of robotic butlers, clumsy automata, and rudimentary mechanical devices" rather than 19th-century Russia. It is also scheduled for release in June.
Then there's prequel "Pride and Prejudice and Zombies: Dawn of the Dreadfuls" expected in March of this year. (Not to mention last month's announcement that a film version of the original "Pride and Prejudice and Zombies" to star Natalie Portman is expected sometime in 2011.)
---
Follow Stories Like This
Get the Monitor stories you care about delivered to your inbox.