Louis Auchincloss: "Last of the Old Guard"
(Read article summary)
Prolific writer and close class observer Louis Auchincloss dies at the age of 92.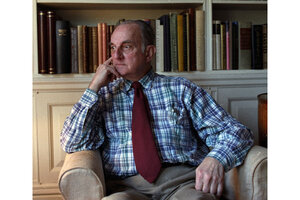 What actually takes place behind the carefully guarded doors of white-shoe law firms and Park Avenue living rooms? Louis Auchincloss knew – and wasn't afraid to invite the rest of us in for a glimpse. In more than 60 books written over the course of 70 years, Auchincloss turned his privileged background into an array of quietly impressive fiction. He was also a historian and essayist.
Auchincloss died today in Manhattan at the age of 92, marking an end to a remarkably active career. "Some people make the rest of us look like idlers," commented Monitor book critic Heller McAlpin in her 2008 review of Auchincloss's 65th novel, "Last of the Old Guard." "Case in point: Louis Auchincloss, who has written, on average, a book a year for six decades – even while practicing trust and estate law full-time for more than 40 of those years."
Auchincloss, McAlpin suggested, "who was honored as a Living Landmark by the New York Landmarks Conservancy back in 2000, may well feel like the last of the old guard himself."
This was a man to the manor born. He descended from a prominent New York family, attended Groton and Yale, and practiced law on Wall Street. His mother was an artist and even as a child he felt a pull toward creative pursuits. Yet when he tried writing fiction full time, he felt cut off from what he called "the real world." So he spent his life allowing his two chosen professions to feed one another.
---