Remembering J.D. Salinger
(Read article summary)
J.D. Salinger, creator of Holden Caulfield, has died at the age of 91. What is his legacy?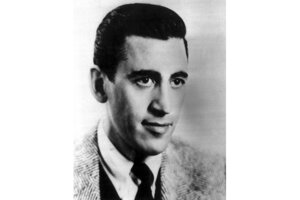 AP/1951 file photo
If you've been to high school in the US in the past 50 years, then you know his book. J.D. Salinger was not as prolific as many authors, but few could even dream of being as influential. Today, Salinger's son announced that, after years of life in seclusion, his father, author of the 1951 classic "The Catcher in the Rye," died yesterday at his home in Cornish, N.H. Salinger was 91.
After "Catcher in the Rye," Salinger went on to publish a handful of additional works, acclaimed by critics and fans alike – "Nine Stories" (1953), "Franny and Zooey" (1961) and "Raise High the Roof Beams, Carpenters" (1963). But nothing else would capture the world's attention to quite the extent of "The Catcher in the Rye," with its alienated, disillusioned, prep school dropout narrator, Holden Caulfield.
---