Amazon vs. Macmillan: The latest round in the book wars
(Read article summary)
A big publisher fights back, Amazon gives in, and e-book prices go up. But what does it mean in the long run?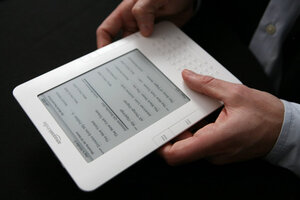 Wow, book headlines are beginning to resemble the sports pages. Every day someone's declaring a new winner and a new loser. This morning the loser is purported to be Amazon, because the company backed down in an e-book pricing battle with Macmillan (one of the US's six largest publishers) and agreed to sell Macmillan e-books on its Kindle e-reader for $12.99-14.99, instead of the $9.99 price that Amazon favors.
But did Amazon really lose? In the short run, yes. This weekend Amazon and Macmillan faced down in a contest that, as The New York Times put it, had "the already anxious publishing industry on edge." Macmillan refused to agree to Amazon's $9.99 prices on bestsellers and many new hardcover releases, and Amazon responded by – temporarily – halting sales of Macmillan titles on its Kindle.
It was a dramatic move. After all, Macmillan includes some of the more successful imprints in US publishing, including Farrar, Straus and Giroux, Henry Holt, Picador, St. Martins Press, and Tor Books. Take those off somebody's Kindle and they would notice the difference pretty quickly. Sloan Harris, codirector of the literary department at International Creative Management told the Times, "I think everyone thought they were witnessing a knife fight. And it looks like we've gone to the nukes."
But now Amazon has – almost immediately, albeit reluctantly – backed down, telling its customers that "we will have to capitulate and accept Macmillan's terms because Macmillan has a monopoly over their own titles, and we will want to offer them to you even at prices we believe are needlessly high for e-books."
---