Hachette joins Macmillan in e-book pricing war
(Read article summary)
Authors caught in the crossfire wonder, "How long can this last?"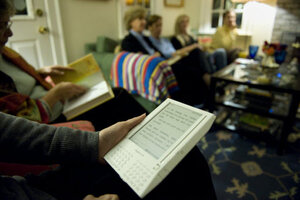 "We want the agency model" seems to be the message publishers are sending to Amazon as the e-book pricing war intensifies. All week the battle between Macmillan and Amazon as to how the e-tailing giant will price digital books has been raging. And now Hachette has joined the fray, with HarperCollins calling for negotiations as well.
That means that Amazon is now butting heads with three of the five biggest US publishers. It would seem that something's got to give – quickly.
Up until now, the Amazon model has been to sell many popular e-books at the subsidized price of $9.99. (The publisher is paid $15 and Amazon sells the high-profile books as loss leaders.) But publishers like Macmillan prefer the agency model proposed by Apple during the unveiling of its iPad last week. This would allow publishers to set their own prices, with a 30 percent commission going to the seller.
Early this week, Amazon announced that they would back down. But as negotiations between Amazon and Macmillan drag on, most Macmillan books are still not being sold by Amazon. And meanwhile some authors are wondering how many sales they will lose before a truce is declared.
---