Are you a "silver scribbler"? It's never too late to become an author
(Read article summary)
A new campaign urges the over-60 crowd to explore the writer within.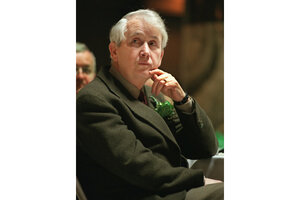 At the age of 58, Penelope Fitzgerald – who had previously worked as a housewife and mother, in a bookstore, and as a teacher – published her first book, a biography of pre-Raphaelite artist Edward Burne-Jones. Two years later, at the age of 60, she published her first novel, "The Golden Child," a book said to have been written to entertain her ailing husband.
Over the next five years she went on to publish five novels, and in 1979 – at the age of 62 – she won the prestigious Booker prize.
Who knows how many retirees have great books lurking within? That seems to be one of the ideas behind the Bookbite project launched by British reading charity Booktrust. The campaign is intended to encourage older people to engage more deeply with books – through reading, joining book clubs, and even writing their own.
Part of the impetus behind the program is the discovery – through a survey done on behalf of Bookbite – that today's Digital Age may have fostered a generation of "silver scribblers." The Bookbite survey of 1,162 readers over the age of 60 found that 55 percent said that the Internet was an important part of their lives and 31 percent were interested in going online to publish short stories and join book clubs.
---