J.K. Rowling faces another plagiarism suit
(Read article summary)
Once again, Harry Potter creator J.K. Rowling faces charges of borrowing too generously from another writer's work.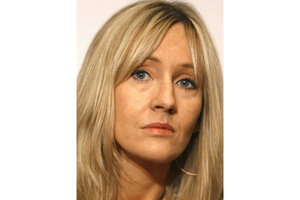 Seth Wenig/AP
Harry Potter author J.K. Rowling is again facing plagiarism charges. Her name has now been added as a defendant in a lawsuit against her publishers. The suit, being brought in a London court by the estate of the English children's author Adrian Jacobs, alleges that she lifted concepts – wizard contests, wizard prisons, wizard hospitals, and wizard colleges – from his 1987 book "The Adventures of Willy the Wizard: No. 1 Livid Land" and used them in writing "Harry Potter and The Goblet of Fire."
The lawsuit was originally brought against Rowling's publisher, Bloomsbury Publishing, and her agent, Christopher Little (who was also Jacobs's agent). The Jacobs estate apparently had thought it was too late to sue Rowling, as "Harry Potter and The Goblet of Fire" was published in 2000. But now, they say, they have discovered "legal cause of action against [Rowling] within the last six years."
The Jacobs estate is calling the lawsuit "a billion-dollar case."
It's not the first time that Rowling, estimated to be the world's wealthiest author, has had to defend herself against charges of plagiarism. One prominent case involved a 2002 suit brought by American author Nancy Stouffer who claimed that her character "Larry Potter" bore a striking resemblance to Rowling's "Harry Potter." Stouffer lost her case and an appeal three years later.
---