After a long courtship, Angelina Jolie will play Kay Scarpetta
(Read article summary)
It's taken 20 years – and Angelina Jolie – to realize a movie deal for Patricia Cornwell character Kay Scarpetta.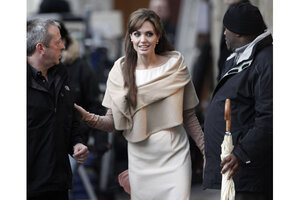 Thibault Camus/AP
Throughout the course of 17 mystery novels, beginning in 1990 with the publication of "Postmortem," medical examiner and crime solver Kay Scarpetta has been wowing her fans. For years now, many of those fans have also been yearning to see their heroine in film.
Now their wishes will come true. But is Angelina Jolie the right actress to bring Scarpetta to life?
The Los Angeles Times is reporting that Fox 2000 could begin shooting a Scarpetta vehicle as early as next fall. But the film will not rely on any of Cornwell's novels. Instead, a screenwriter will construct an "origins story" written for the screen. The Times says that the story will be set in the present day and will feature a more youthful Scarpetta.
Not everyone is happy. Leaning on both references in the novels and Cornwell's own appearance, many Scarpetta fans picture the pathologist as more like a 40-something blond with a short haircut. Others insist that Scarpetta more closely resembles Jodie Foster (who is said to have turned the role down), Glenn Close, Demi Moore, and/or Kristin Scott Thomas.
---