Guest blog: John Grisham tackles children's books
(Read article summary)
With John Grisham taking aim at kids, will other big names follow suit?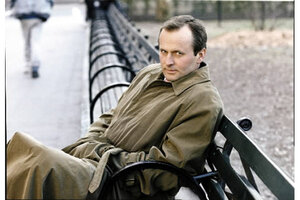 Doubleday/AP
I remember devouring Agatha Christie books as a kid, but no one ever suggested that murder mysteries were meant for my age group. Today's kids, though, are about to get a new series by bestselling thriller author John Grisham, aimed at 8- to 12-year-old "tweens." Publishers Weekly reported that the series "will focus on 13-year-old Theodore Boone, a legal whiz kid. In the first book, 'Theodore Boone: Kid Lawyer,' Theo gets caught up in a high-profile murder trial in his town."
Whew. That's a long way from Encyclopedia Brown.
The Guardian noted that "Many a literary name – from Ted Hughes and T.S. Eliot to Booker winners Margaret Atwood, Roddy Doyle, Ian McEwan and Peter Carey – has written for children in the past. Big-name commercial novelists going after the youth market are rather rarer," although James Patterson, among others, have done so.
---