Mitt Romney's book tour: first stop on the campaign trail?
(Read article summary)
Mitt Romney's "No Apology: The Case for American Greatness" reads like a playbook for a 2012 presidential run.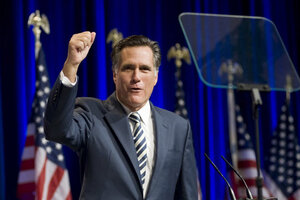 Cliff Owen/AP
He was on the "Today" show yesterday and sat with the ladies on "The View" this morning. Over the course of the next two months he'll be pretty much everywhere. Mitt Romney's new book "No Apology: The Case for American Greatness" was released yesterday and you might as well get used to seeing him in the headlines again. His 19-state book tour guarantees a certain amount of media coverage.
But early readers of Romney's book suggest that there's no chance that "No Apology" will generate the hot-cake-like sales of Sarah Palin's "Going Rogue." The Boston Herald points out that "No Apology" "offers none of the newsy nuggets or juicy anecdotes that spice the best-selling memoir of Romney's likely Republican presidential rival, Sarah Palin." On the contrary, says Time magazine, "Romney has penned a sober, substantive tome that traces the decline of the Ottoman Empire and includes graphs of housing prices."
---