Is "Double Falsehood" a lost work by Shakespeare?
(Read article summary)
After years of disparagement, a play named "Double Falsehood" is now being lifted closer to the Shakespeare canon.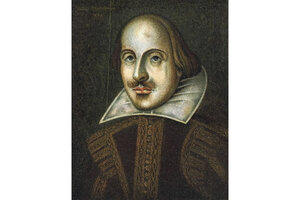 KPA/United Archives/WHA/Newscom
For centuries, scholars insisted that debate over the play was simply a matter of much ado about nothing. But now the story of "Double Falsehood" – a work being called a lost play of Shakespeare – is shaping up more like a tale of all's well that ends well.
Next week, it is being reported, a respected Shakespearean scholar – Professor Brean Hammond of England's Nottingham University – will publish compelling new evidence that "Double Falsehood," little-known 18th-century play, is really the reworking of "Cardenio," a lost play co-written by Shakespeare.
Hammond's claims were further bolstered earlier this week when Arden Shakespeare, a highly regarded publisher of Shakespeare's works, said that it will release an edition of the play edited by Hammond. An editor at Arden notes that there is no way of being certain that "Double Falsehood" has ties to Shakespeare, but he describes his position as one of "fairly confident – but cautious – acceptance."
This is the first time in 250 years that "Double Falsehood" will be available in its full form. It is also being reported that the Royal Shakespeare Company will perform the play in Stratford-upon-Avon in 2011.
---