Ten best books about Ireland
(Read article summary)
There is no shortage of great books about Ireland. Here's a sampler to help you celebrate St. Patrick's Day.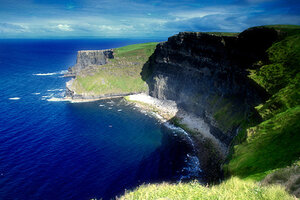 Flickr.com
Looking for something good to read on St. Patrick's Day? You've got your pick when it comes to both great Irish literature and that by the multitude of non-Irish who were inspired by the Emerald Isle to pick up their pens and write. Below is a list of those most likely to please:
1. "Ulysses" by James Joyce. It's hard not to start any list of books about Ireland with James Joyce's 1922 classic detailing the passage of Leopold Bloom through Dublin on June 16, 1904.
2. "The Heather Blazing" by Colm Tóibín. This story of a Dublin high court judge and his family offers gorgeous, understated prose and a feel for the glories of the south Irish coast.
3. "Trinity" by Leon Uris. Through the intersecting lives of several Irish families, Uris tells the story of Ireland from the Famine of the 1840s on through the Easter Rising of 1916.
4. "How the Irish Saved Civilization" by Thomas Cahill. Cahill presents Ireland as "an island of saints and scholars" who kept Western civilization alive during the Dark Ages.
5. "William Trevor: The Collected Stories." It's hard to pick just one title by this Irish master so perhaps best to go with the omnibus.
---