March Madness reading list: 10 best books about college basketball
(Read article summary)
Tired of reading brackets all day long? Try some of these classic books on college basketball.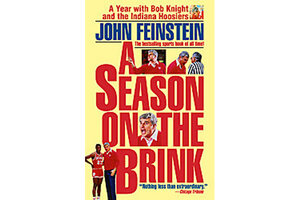 There must be more to life than bracketology. But once March Madness sets in, it's hard not to become a college basketball fanatic. For those who want to do so more intelligently (or who need good reading material for those timeouts), here's a list of 10 books guaranteed to both boost knowledge and increase spectator pleasure.
1. "A Season on the Brink" by John Feinstein. Feinstein, a noted sportswriter, follows a year in the life of coach Bobby Knight and his 1985-86 Indiana Hoosiers. Some call it the best book ever written about basketball.
2. "A March to Madness" by John Feinstein. This time Feinstein follows one year in the life of a conference: the Atlantic Coast Conference. "A March to Madness" follows the conference teams, their coaches, and their players, through the 1996-97 basketball season, culminating with the NCAA Final Four.
---