To understand Joe Biden, try his autobiography
(Read article summary)
Joe Biden may make his share of gaffes, but slips of the tongue don't keep him down long.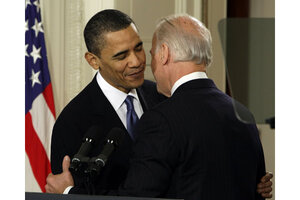 J. Scott Applewhite/AP
Joe Biden jumped into the headlines in an unfortunate fashion at the signing of the health care bill yesterday when a personal comment – vulgarity included – intended only for the ears of Barack Obama went zinging around the world. But as we know only too well, it wasn't the first time that America's garrulous vice president put his foot in his mouth – although one wisecracking journalist drolly called the slip, ''The mother of all Biden moments.''
But others point out that Biden has made a career of losing control of his tongue. "[I]t shouldn't be much of a surprise that Biden got himself in trouble shooting off his hair-trigger mouth," opined one blogger. "The list of his gaffes will make a fine CD one day." Many are busy adding yesterday's slip to their lists of Biden's top gaffes – including such minor disasters as insisting that FDR went on TV in 1929 to talk about the stock market crash and suggesting on the stump that Obama would have done better to pick Hillary Clinton as a running mate.
It's easy to forget, however, that Biden has also proven capable of using his words to very good effect. His autobiography, "Promises to Keep: On Life and Politics," hit bestseller lists in 2007 (two years before Sarah Palin's "Going Rogue" would set new records for the genre.)
---