Like Sarah Palin, Karl Rove faces book tour disruption
(Read article summary)
Antiwar protesters rush the stage at Karl Rove's Beverly Hills book signing.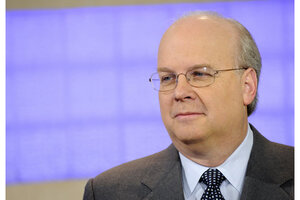 Peter Kramer/AP
Sarah Palin faced down some flying tomatoes. But for Karl Rove, it was an attempted citizen's arrest that interrupted his book signing.
Rove was in Beverly Hills yesterday to promote his new memoir, "Courage and Consequence." But as he took the stage at Saban Theatre to address an audience of about 100, antiwar protesters rushed forward, calling him a "war criminal." Jodie Evans, the cofounder of the antiwar group Code Pink, approached Rove with handcuffs and attempted to make a citizen's arrest.
Jodie Evans shouted at Rove that he had outed a CIA agent. She also charged him with lying "to take us to war" and "totally ruining the country." CBS station KCAL-TV in Los Angeles caught the incident on film.
Rove did not stay silent. He told the audience that the incident was an example of the "totalitarianism of the left." He continued, "[T]hey don't believe in dialogue.... [T]hey don't believe in courtesy. They don't believe in First Amendment rights for anyone but themselves." He also called one protester a "lunatic" and told others to "get the heck out of here."
---