A new Twilight book, plus Harry Potter under a different cover
(Read article summary)
A new Twilight book and a redesigned look for Harry Potter should spell good news for book sales.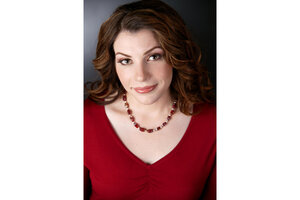 Little, Brown and Co.
Could there be better news for booksellers? Stephenie Meyer's new novella, "The Short Second Life of Bree Tanner" – linked to her mega-popular "Twilight" series – will go on sale on June 5. And, at the same time, Bloomsbury, the British publisher of the "Harry Potter" books is hoping to lure a new generation of readers by releasing the ever-beloved J.K. Rowling series with redesigned covers.
Meyer says that she originally envisioned "The Short Second Life of Bree Tanner" – which deals with a character introduced in "Eclipse," the third book of the "Twilight" series – as part of "The Twilight Saga: The Official Guide." But eventually the 192-page book developed a life of its own.
The marketing of the new book will be interesting. Hardcover copies will go on sale at 12:01 a.m. on Saturday, June 5 – with e-book sales beginning a few hours later at 6 a.m. But as a gift to her fans, Meyer is also making "Bree" available free of charge on a dedicated website, from June 7 to July 5.
There's an added incentive, however, to actually buy the book. Meyer has promised that one dollar from each book sold from the book's first 1.5 million printing (or two years from the pub date, whichever comes sooner) will go to the American Red Cross International Response Fund to support disaster relief efforts, including those in Haiti and Chile.
---