If you're a book reader, should you buy an iPad?
(Read article summary)
The first reviews on the iPad are in and when it comes to e-books, well, the verdict is mixed.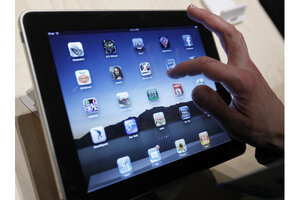 Marcio Jose Sanchez/AP
For techies and early adopters, Saturday's launch of the Apple iPad can't come soon enough. But the rest of us – and specifically, for those of us who are serious book readers – it may require a little more time before we know if we're interested in upgrading from a Kindle or Nook.
Reviewers have now had a chance to get their hands on the iPad and much of what they're telling us is that the device is a winner. But when it comes to buying and reading e-books, the verdict is a bit more murky.
Here's some of what we've heard so far:
The Wall Street Journal: Overall, Walter S. Mossberg writes under a headline that declares the iPad a "game changer that makes browsing and video pleasure." He also declares that "The iPad is much more than an e-book or digital periodical reader, though it does those tasks brilliantly, better in my view than the Amazon Kindle." He goes on to say that he found "iBooks, Apple's book reader and store, easy to use, and read a couple of books on it. I consider the larger color screen superior to the Kindle's, and encountered no eye strain." But he adds, "[T]he iPad is much heavier than the Kindle and most people will need two hands to use it. The iBooks app also lacks any way to enter notes, and Apple's catalog at launch will only be about 60,000 books versus over 400,000 for Kindle."
---