Silly parents, iPads are for kids (and their books)
(Read article summary)
Are parents with iPads really going to let their kids use them for reading? The answer seems to be yes.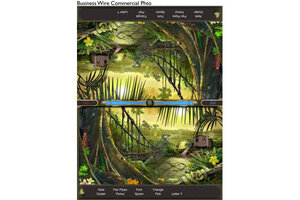 Big Fish Games/Business Wire
Every parent wants his child to read – but on a $499 device? Yes, it seems – if the device is an iPad.
According to Publishers Weekly, "Parents immediately started snapping up picture book apps from Apple's online store. In fact, children's stories held 6 of the top 10 paid iPad book-app sales spots as of press time."
PW goes on to catalog an impressive list of children's book offerings available for the iPad, including some titles being offered for free. Top selling children's lit iPad apps, they note, include "The Cat in the Hat," "Dr. Seuss's ABC," "Toy Story 2 Read-Along," "How to Train Your Dragon," "Miss Spider's Tea Party," and "The Goose that Laid the Golden Egg." In the iBookstore, the bestselling children and teens' titles were "Eclipse," "The Lightning Thief," "Twilight," "Breaking Dawn," and "The Berenstain Bears Go to Sunday School."
---