What will you learn from Kitty Kelley's new Oprah biography?
(Read article summary)
Excerpts of Kitty Kelley's new biography of Oprah Winfrey are leaking out but some complain that there are few real revelations.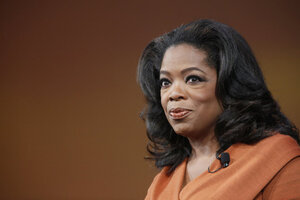 Mary Altaffer/AP
It's sure to be one of the most talked-about books this month, but will you really learn anything new from reading "Oprah: A Biography," Kitty Kelley's new unauthorized biography of television megastar Oprah Winfrey, due in bookstores tomorrow? Some readers who've seen leaked excerpts suggest that the answer is no.
Perhaps it's too late for a Winfrey tell-all," speculates Janet Maslin in The New York Times. "She has already said way too much about herself."
Maslin adds, "Some of the best-known parts of [Oprah's] story, like the dieting, have literally been discussed ad nauseam. And why would lengthy rehashes of well-known embarrassments (e.g., the James Frey/'A Million Little Pieces' flap) be interesting? Ms. Kelley simply replays the televised version. She has nothing new to add to these stories."
(Although the timing for the book is excellent – it comes out just as Winfrey is making headlines with the announcement that she will be starting her own cable network.)
---