Going for a softer touch, Ruth Reichl renames her memoir
(Read article summary)
Ruth Reichl's memoir about her mother has morphed from "Not Becoming My Mother" to "For You Mom, Finally."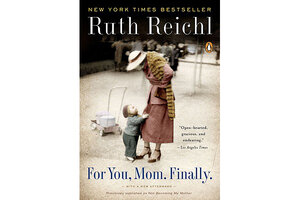 Ruth Reichl's stories of her mother have enriched her memoirs enough that a reporter found it only "odd" that "she was publishing another book about her mom on the heels of last year's "Not Becoming My Mother." As the writer soon learned, it was the same book, under the new paperback title "For You Mom, Finally."
The original title from the food writer and former Gourmet editor had been "perhaps forbidding," wrote USA Today, calling the new name a "Mother's Day-friendly moniker." The president/publisher of Penguin Books told the paper that the change came because "We realized that this new title would more effectively reach the intended audience" of mothers and daughters."
Indeed, when I asked on Twitter if anyone knew the reason for the change, one reader answered that it certainly made it an easier book to recommend to her own mother. (Another joked that the softer approach was classic Jewish-mom guilt from Reichl, a writer who had, after all, once dubbed her mother "The Queen of Mold.") And it's a sign of how much Reichl's stories resonated with readers that my neighborhood bookseller called it to my attention and asked me, as a fellow fan, why I thought the title had changed. It seemed a significant message.
---