Would you cook from your iPhone?
(Read article summary)
A new iPhone app could help create a life for cookbooks in a digital age.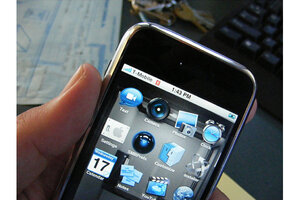 Flickr.com
Never mind whether the Kindle and iPad will kill print books. How about the iPhone?
That was my first thought after seeing the new app for Mark Bittman's "How To Cook Everything," a valuable kitchen guide often described as a modern "Joy of Cooking". The app promises quick searches, shopping lists that can easily be built from recipes, recipe timers, features such as quick dinner picks… and those are just the useful digital toys. The shocker, for me, was that the $1.99 app includes the entire $35 cookbook.
I emailed Mark Douglas, co-founder of Culinate, which co-developed the app, to ask how and why they would offer an enhanced book but charge just a fraction of the cover price. He answered that, with most iTunes prices locked into the 99-cent to $2.99 range, it seemed too risky to charge substantially more for such a new experiment. Better to draw sales first, in their minds, getting a relatively high ranking in the Apple store, and at least breaking through the 200,000+ other offerings on the one store's virtual shelf.
The $1.99 price is an aggressive introductory price, Douglas said, and eventually will rise to "where we think it can be sustained," around $7.99.
---