Anne Frank's diary – complete, original – is on display for the first time
(Read article summary)
The various pieces of Anne Frank's diary are finally being exhibited together in the Amsterdam building where she wrote them.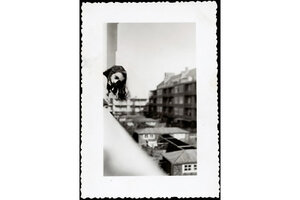 Otto Frank/AP
The complete surviving manuscript of Anne Frank's diary is now on display, for the first time, at the Anne Frank House in Amsterdam. Frank's original red plaid diary has long been exhibited at the museum, but that book was only one of three in which she wrote her thoughts during the 25 months that she and her family hid from the Nazis in a concealed apartment in the building that is now the Anne Frank House.
The rest of Frank's diary – which spilled over into two exercise books and other sheets of paper – had been kept at the Netherlands War Documentation Center. From now on the entire diary – along with some short stories by Frank and a notebook of quotes that she collected – will remain at the Anne Frank House.
It is now 50 years since the Anne Frank House opened its doors as a museum. Last year marked both the 65th anniversary of the day the Frank family was discovered hiding and what would have been the 80th birthday of Frank. All these anniversaries have stirred fresh interest in the Jewish teenager whose diary has become a global classic.
Headlines about Anne Frank over the course of the last year have included the surfacing of a 20-second film of her, the announcement that Disney has acquired the rights to make a new movie version of "The Diary of Anne Frank," and the death this past January of Miep Gies, known worldwide as a protector of the Frank family.
---