Woodward on Obama: a new book by the reporter who can 'talk to almost anyone'
(Read article summary)
Bob Woodward's latest book on the Obama administration will be released this fall.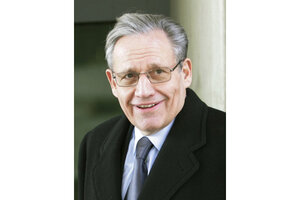 Pablo Martinez Monsi/AP
It doesn't even have a title yet, but that hasn't prevented Bob Woodward's latest book from making headlines. Woodward, best known as half of the Pulitzer Prize-winning journalistic duo that busted Watergate wide open, will be writing on the Obama administration. The book is expected to be released this September.
Little is known about the book so far, but Woodward did tell Politico earlier this year that the project, which will be published by Simon & Schuster, was going "very well." A White House official confirmed at that time that Woodward was getting access to senior officials in the Obama administration and would most likely have a chance to interview the president.
Woodward also wrote four bestselling books on the George W. Bush administration based on interviews with Bush and other top officials. In reviewing Woodward's third Bush book, "State of Denial," Monitor staffer Peter Grier wrote that "[T]here's a reason why Bob Woodward remains a brand name of news more than 30 years after Watergate. The man's a reporting machine. His reputation is such that he can talk to almost anyone he wants to – so he does."
---