With book sales still strong, 'The Help' will begin filming
(Read article summary)
Kathryn Stockett's debut novel 'The Help,' once rejected by 60 agents, continues to make headlines.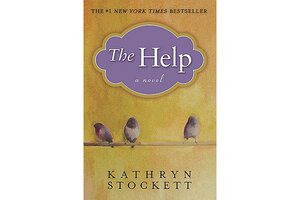 Is there a novel reader anywhere in the US today unfamiliar with "The Help," Kathryn Stockett's debut novel about three African-American maids and the white families who employ them in Jackson, Miss., in the 1960s? It would be hard to miss the book, which has had a more or less permanent place on bestseller lists for about a year now.
It wasn't always that way, however. "I had been soliciting it, trying to find an agent, for two ... years and got about 60 rejection letters," recalls Stockett in an interview with The Women on the Web. Eventually, however, Stockett found both agent and publisher. Today, 15 months after the book's February, 2009, release, "The Help" is "being published now in 35 countries and in three languages," says Stockett.
It is also moving rapidly toward the big screen. DreamWorks Studios announced yesterday that shooting for the "The Help" will begin late in July, mostly in Greenwood, Miss., a rural city of 18,000, located in Mississippi's Delta region.
---